Our 2 year strategy 2018/19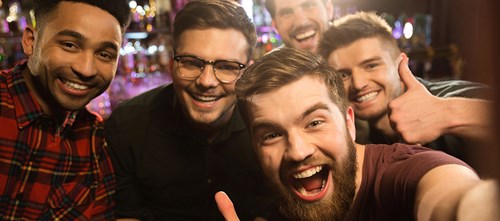 BIA wants to provide a 'protective virtual cape' around men in Scotland to support them with their mental health & reduce male suicide. Our strategy is based on these 4 pillars:
CRISIS   AWARENESS   PREVENTION   EDUCATION  
• To stop CRISIS.
• We must raise AWARENESS.   
• Implement PREVENTION.
• And teach resilience through EDUCATION  
We describe ourselves as a "21st Century Charity for the 21st Century male trying to make sense of the modern world"...
Using both digital technology and social media that are both relevant to and can be used by men, and able to reach all parts of Scotland, we raised AWARENESS by creating our first film '3 Scottish Men talk about their Mental Health' available on both Facebook and YouTube platforms.
To give men another coping mechanism, other than the ones we tend to use such as alcohol, drugs or gambling, the kind of 'risky behaviours' that can lead us down the path to suicide, we launched #BrotherFeelStressFree an App that is free to download and use, it helps manage both stress and anxiety as a PREVENTION to what can be the start if not addressed of a path towards depression. We are planning to introduce 'Blether with a Brother' peer support groups as a way of men providing support to each other in a safe non-clinical environment.
To support young boys becoming men facing the new additional challenges in the 21st Century from both peer pressure and social media and to stop them from becoming another statistic reflected in  'if you are a man under the age of 45 in the UK, the thing most likely to kill you… is you, and by using EDUCATION to introduce our #BrotherBeingMankind project both as resource and lesson plan for the classroom, it shows the power of positive male role models who have overcome their own personal challenges as a way to show that emotional issues can be overcome.
We believe that to reach CRISIS means that intervention is needed before the cycle starts anew and so are about to launch the 2nd of our digital tools, the #BrotherStayAlive – create your own safe space App again free to download and use, it is a pocket suicide prevention resource for men in Scotland, packed full of useful information and tools to help them stay safe in crisis. It can be used if you are having thoughts of suicide or if concerned about someone else who may be considering suicide.
For the next 2 years we will create more content through films, podcasts and using 'virtual Ambassadors' for where we cannot always physically visit, we will look at the use of digital technology both to provide support especially to the more remote parts of Scotland, and an App that can be used by children to support their mental health, and use the statistics to be proactive in targeting those areas that are most at need, and are looking to provide free basic suicide awareness training to help those who are supporting men in crisis, through the safeTALK: Suicide Alertness For Everyone programme
 #WeAreBrothers #BrothersNeedSisters #EveryBrotherHasAMother #BeABrother #BeASister