Make someones Xmas and donate your old phone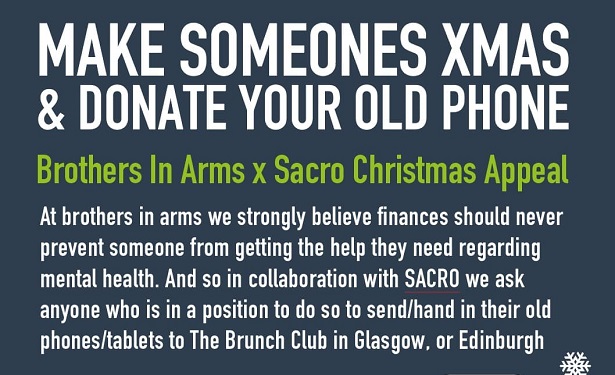 Date: Saturday 12 Dec 2020
Recently at Brothers in arms, we have been working in partnership with Sacro to support their patrons in repairing and maintaining their mental health in any way we can.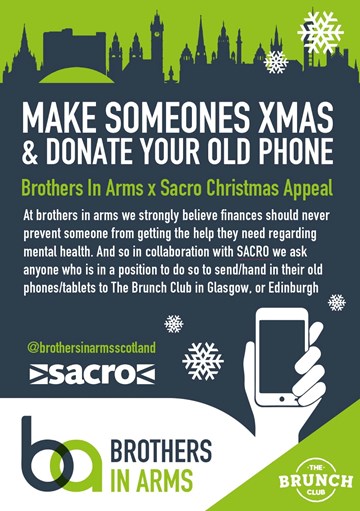 Sacro provides a range of services from conflict resolution that prevents disputes from escalating to supporting prisoners on release. They work with individuals to repair harm and reduce conflict and reoffending, making Scotland a safer place for all to live.
A lot of those referred to Sacro are financially restricted, and we were shocked to hear how many didn't have access to smartphones in order to make use of our free NHS approved app and counselling services. 
We believe finance should never be a factor in maintaining mental health.
We ask this Christmas that anyone with an old smartphone/tablet in a drawer to either post them, or hand them into THE BRUNCH CLUB, GLASGOW, OR EDINBURGH (address below).
The phones will be handed out along with training on how to use our services, giving those in need the chance of the help they deserve.
*The Brunch club Glasgow
67 Old Dumbarton Rd, Glasgow G3 8RF*
*The Brunch club Edinburgh
13A Melville Pl, Edinburgh EH3 7PR*
Thank You.