Men's Mental Health Free Q&A Panel Webinar-Wednesday 25th November, 4 pm - 5 pm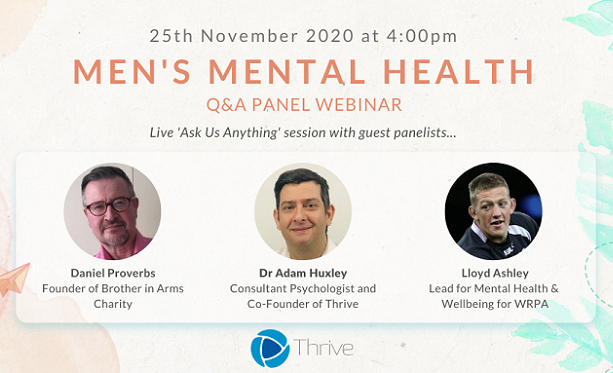 Date: Sunday 22 Nov 2020
For Men And Those That Support Them...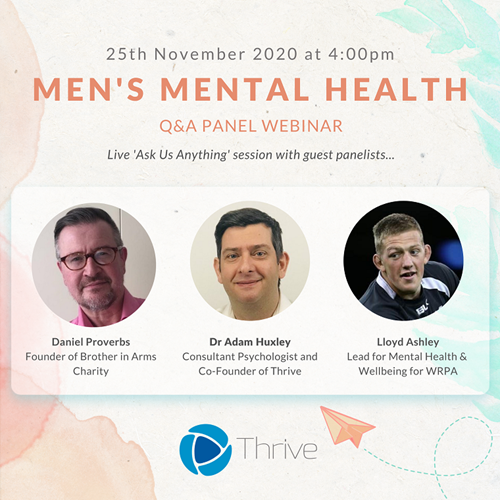 In aid of Men's Health Month and as part of their November Men's Mental Health webinar
series, Thrive ( our digital partner) are hosting a Q&A panel webinar discussing all things male mental health.
Panellists:
- Dr Adam Huxley - Consultant Psychologist and Co-Founder of Thrive
- Daniel Proverbs - Founder of Brother in Arms Charity
- Lloyd Ashley - Professional rugby player, owner of LivingWellwithLloydAshley and
Lead for Mental Health and Wellbeing for the Welsh Rugby Player Association

Thrive Co-Founder Dr Adam Huxley will be joined by
Daniel Proverbs, Founder of Brothers in Arms - a men's mental health charity aimed at
providing information, support and advice to men of any age -
as well as Lloyd Ashley,
Professional rugby player and mental health advocate.
They will be sharing their exclusive
insight on the topic, drawing on their own experiences and the work they are doing.
Subjects up for discussion include:
1. I live by myself and am finding it very difficult not being able to go out and see friends
or family whilst in lockdown. 
2. My partner has been really struggling with his mental health recently but won't go and
get help. 
3. I'm worried about opening up about my mental health struggles because I think I will be
judged.
4. How do I know if I have anxiety or depression?
5. I'm normally really active and social - playing sports, meeting up with friends - and am
really struggling at the moment and feeling very isolated. 
6. I've seen through Brothers in Arms you can access the Brothers-Thrive App and I've never used a mental health app before so why would it work for me?
7. I've recently become a new father and although it is amazing I have also struggled with
this big change.
8. A friend of mine hasn't been responding to messages and has seemed more withdrawn
during this lockdown.
Following this (and depending on time available) we will be opening up to attendees to 'Ask Us Anything' 
Book your free ticket HERE